Google Ads Campaign Management
Grow your business with Google Ads without spending a fortune on ineffective tactics.
Google Ads (formerly AdWords) are a great way to get your local or online business in front of customers who are actively searching for your products and services. However, it can be a complex and time-consuming process to set up and manage a successful campaign. That's where we come in to help.
Our team of local experts can help you with all aspects of your campaign, from keyword research and ad copywriting to campaign optimisation and reporting. We can also help you avoid the common pitfalls that can lead to wasted ad spend.
Best of all, you'll be working directly with the tech expert managing your ads, not a salesperson. If you're keen, we're keen!
Here are some of the different types of Google Ads
Search Ads: These ads appear at the top of the search results page, above the organic results. They are triggered by keywords that people type into the search bar. This is typically what people think of when they hear "Google AdWords".
Display Ads: These ads appear on websites that are part of the Google Display Network. They can be text, image, or video ads, and they can be targeted to specific demographics or interests.
Shopping Ads: This type of Google Ads campaign appears at the top of the search results page, below the organic results. They are triggered by product searches, and they display information about the product, such as the price, image, and availability.
Video Ads: Google Video Ads are a type of online advertising that allows businesses to reach their target audience with video content. These ads can be displayed on YouTube, as well as on other websites and apps that participate in the Google Display Network.
Discovery Ads: These ads appear on Google properties such as the Discovery feed (a curated article feed, which is included in many Android phones), Gmail, and YouTube sidebars.
App Ads: This type of add essentially exists to promote your app within other apps. App marketing can be considered its own separate field.
Our Google Ads process – what's included
Campaign setup
We will set up your Google Ads campaign and configure the settings to optimise your results.
Campaign optimisation
We will monitor your campaign and make adjustments as needed to improve your results.
Ongoing support
We will provide you with ongoing support to help you get the most out of your Google Ads campaign. We will answer your questions, make recommendations, and liaise with Google where needed.
Competitor research
We will research your competitors to see what keywords they are targeting, and if they are also using Google Ads.
Keyword research
We will use our knowledge of your business and our research to identify the most effective keywords to target.
Ad copywriting
We will write compelling ad copy that will persuade people to click on your ads
"I would highly recommend Lou to anyone looking for a skilled and experienced PPC specialist. Lou has a strong track record of delivering exceptional results for clients across a range of industries. Lou is also highly analytical, using data-driven insights to continually refine and optimize campaigns for maximum ROI."
– Adam Blackburn,
Full-Stack Digital Designer
Why choose us?
Good question! Google Ads agencies make all kinds of promises to get you in. Here's what makes us special:
You're in control
We don't have lock-in contracts, and you always get final say in how your dollars are spent. We'll also let you know well beforehand if your ads aren't working out, and guide you on the next steps.
No unrealistic promises
Usually when you work with an agency, you're dealing with a salesperson or account manager. These people are not tech experts, we are. We know exactly what you'll get from your Google Ads campaigns, and won't make false promises.
Complete transparency
Your account is your account, your data is your data, and your assets are your assets. Many agencies will own your accounts or obscure data to make it sound more impressive than it really is. We don't do that.
Holistic strategy
There's more to a successful PPC campaign than getting a customer to click. When you partner with us, you'll get our expert eyes on your website as well. We'd hate to have a well-thought campaign be let down by an underperforming website.
Ethical approach
You're not just another number in our books. And we're people, not robots. We do what we do to support businesses in our community. We do what we do because your success is our joy. We wouldn't have it any other way!
We're forever students
We're forever students, this means we're always educating ourselves on how to do better. This helps us help you stay ahead of competition. We focus on what we're good at so that you can keep doing what you're good at.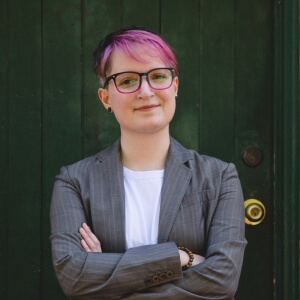 A bit about our Google Ads team
Our Melbourne Google Ads team is led by our expert, Lou Kozlevcar (they/them). They have over 10 years experience in the digital marketing industry. Trained by experts, Lou is equipped with some seriously good skills to help businesses make more sales with paid ads. They have the expertise to understand the nuances of and strategy required for your unique business.
Google Ads Packages
Starter Plan
Google Ads maintenance
Quarterly strategy sessions.
Tailored recommendations.
7 ads per campaign.
2 campaign types.
Suitable for lead-generation or eCommerce sites with small ranges of products.
$720 / month
Advantage Plan
Google Ads maintenance
Monthly strategy sessions.
Ongoing competitor research.
Tailored recommendations.
10 ads per campaign.
3 campaign types.
Suitable for larger, national eCommerce websites with varying audiences.
$1100 / month
Bespoke Plan
Don't see a plan that suits? Let's work together to craft a solution for your unique needs. You may even want to read more about our Digital Triage service.
Suitable for businesses with complex needs or for those who are just not sure where to start.
POA
FAQs
Our
Digital Roadmap
is the best place to start if you're unsure about which platforms should be used to achieve your goals.
We will work together to determine a reasonable amount of budget and timeframe to allocate to your goals or project. We pride ourselves on being honest, ethical and transparent. We will never try to push you into signing up with a platform just because it's new or shiny.
Our services are generally not suitable for those with ad spends lower than AUD $2000. (We may make exceptions for lower ad spends if it makes sense for your business model and sales cycle.)
Also, our packages are not set in stone. We will work with you to determine the amount of work and resources you need.
Any existing marketing collateral is helpful! Logos, web-formatted videos, photos, etc.
We will write your ad copy (with your approval). But if you would like to provide your own copy and creatives, that's A-OK too!
Your ad spend is additional to our management fee. Ideally, your ads account will be set up with your payment details.
A free AUD$600 ad credit is available to businesses with new Google Ads accounts who have never run ads on the platform before. (You will need to invest AUD$600 in ad spend, over a period of 60 days in order to activate this.)
Eligible non-profit organisations may be granted up to AUD$13K per month. However, you will only be able to run Google ads campaigns on Search. So please consider this carefully if you would like to make shopping, video, or display ads part of your strategy.
Our chief Google Ads consultant, Lou Kozlevcar (
they/them
) has been working professionally as a Google Ads strategist for over 3 years. Lou is actively being sought out for employment via larger digital marketing agencies, but would much prefer to work directly with small business owners who gravitate more towards Online Tree's vibe. ?
Lou has achieved a steady flow of leads for a custom furniture maker, increased sales for a florist, and enhanced visibility for a rural town mechanic… Just to name a few projects.
You can view their history, recommendations, and achievements on
Lou's LinkedIn profile
.
Unlike other agencies or freelancers, we actually dig in deep to get to know your business and its surrounding digital ecosystem. Our campaign setup and management is based on data and industry best practices.
Strictly speaking, no. All terms in our contracts can be negotiated by mutual agreement between both parties. Any mentions of a time period simply indicates the cost of the service if you stay on for that lengh of time. We recommend trying the service for at least 3 months to assess whether it's working or not.
Our HQ is within the Co-Paradiso coworking space in Brunswick East. Please note that we require an appointment should you wish to visit us here.
Unfortunately, no. In order to keep this service affordable, we can only offer online appointments at this stage.